Saturday, October 17, 2009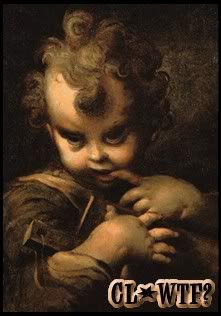 .... WHAT?!Feature Ad:1) Seeking full-time live-in nanny (Indiana)
My husband and I have a (biracial) newborn baby and also work from home. We love being hands-on parents with our baby boy (born Aug. 13) and hope to find a full-time live-in nanny so we can actually get work done during the day. We're looking for a nanny with open availability 7 days a week, every day. We will pay extra for light housekeeping. When we say 24/7availability, this doesn't mean you'll be working the whole time (we encourage you to still have a personal life), we prefer someone who can be flexible with our schedules instead of the other way around.
We're VERY involved with our boy and aren't lazy nor are we superficial and seek the same. We expect nanny to clean after self and baby (we'll pay extra if you clean after us parents). We live in a beautiful and safe neighborhood (Windsor Private) near the Oliver Winery in a gorgeous home. A little bit about us: we're vegetarian (mostly), spiritual but not religious, open-minded, 420 friendly (but not with baby), and enjoy learning about multiple cultures.
Requirements:
Female or Male or TG/TS over the age of 21
Must have at least 3 years with newborn experience
Must be willing to eat vegetarian
Must have 3 references (at least 2 related to childcare)
Must be ok with cat
Non-cigarette smoker
Qualities we look for in nanny:
Self-sufficiency
Self-reliance
Dependability
Adaptable to new environments
Able to do things through self-discovery without constantly asking how do to it (example: tv remote)
Able to keep religion to themselves and away from our child (this is very important to me)
We're super easy to get along with and hope to find someone who would like to join our little family. We sometimes like to travel (as husband/wife) and would like someone who can manage the house and baby while we're gone. And likewise, there may be times we want to bring nanny and baby along too. It's been forever since we've had time to go on a date. Nanny will have his/her own room near the nursery.
Payment:
$300 a week (if nanny is in college/has work or other schedule obligations)
$400 a week (if nanny has no other schedule conflicts and is available 24/7)
$500 a week + surprise bonuses (if nanny is available 24/7 and provides basic housekeeping)
We look forward to hearing from you and will answer any questions you may have! Namaste.
Original URL: http://bloomington.craigslist.org/kid/1374898149.html____________________________________________________________Special thanks to hijabiniqaabi for our Feature Ad! Also, thank you to vshirey317, afnt81, JLow2474, Utah Nanny and mbargielski... all of you found really awesome Ads! Remember, CL-WTF will be Posted every Saturday. Please send next weeks Ads HERE or use MEEBO.
TO READ THE REST OF THIS WEEKS SUBMISSIONS: PLEASE CLICK HERE!