Friday, November 17, 2006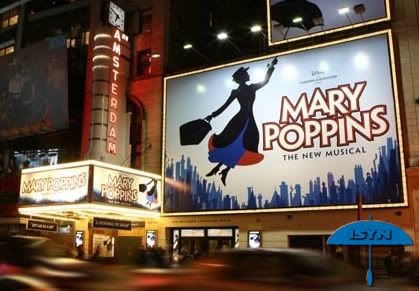 Mary Poppins
officially debuted last night at the New Amsterdam Theater in NYC.
Ashley Brown
, who previously starred as Belle in
Beauty and the Beast
shines in the title role as Mary Poppins. For the NY Times review,
click here
. For the Theatermania review,
click here
. For tickets and additional information; including a sneak preview,
click here.
Click here
to read Caitlin Flanagan's article on Becoming Mary Poppins. (New Yorker 12/2005).
Searching for Mary Poppins
by Susan Davis and Gina Hyams is a new book in which twenty-five bestselling and award-winning female writers explore the emotional minefield of mother-nanny relationships. For anyone who has been there, and on either side; it is easy to appreciate the scope of emotions (love, guilt, betrayal, gratitude, insecurity and loss) that can define these often intimate relationships.